Childbirth and Parenting Ministries

Australia



The aim of
Childbirth and Parenting Ministries
is to: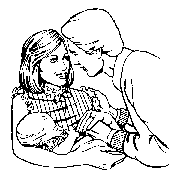 run antenatal classes covering all aspects of physical, mental and spiritual preparation for labour, birth and the early days with your new baby.
educate couples about God's design for labour and what the Bible says about childbirth.
inform couples about the benefits of breast feeding and the steps to successful breast feeding.
foster a positive attitude towards childbirth and parenting.
teach the foundations of Christian parenting.
Services offered.
Childbirth Preparation Classes (7 week series)
provides full preparation for labour, birth and early parenting
particularly suited for couples expecting their first child
Pre Pregnancy Seminars

to inform couples of the need for physical, mental and spiritual preparation prior to conception
explores options for maternity care
Bible Study Classes
series of classes which explore the Biblical aspects of birth, breastfeeding and parenting
Postnatal reunions
time to catch up with class members and share birth testimonies
discuss parenting your new baby
Refresher classes
for those expecting their 2nd or subsequent child or to supplement hospital classes
Individual consultations
Professional labour support
Parenting Seminars
---
For bookings or details email Allison Hilbig BAppSc(Physio) GradDip(Childbirth Ed)

Hilbig's home page
Association of Christian Childbirth Professionals (USA)



Breast-Feeding Best Bet for Babies
Woman to Woman